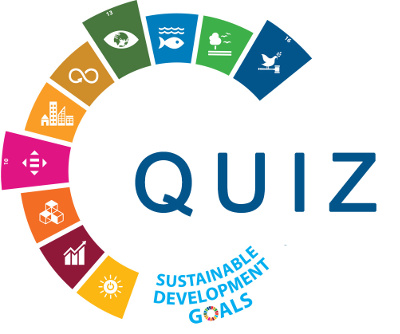 Dear colleagues,
Children, teenagers and adults love quizzes. They spark motivation, fun and excitement. The players can show how much they know and there is always a chance to get the answer right. Quizzes create an atmosphere of competition and provide a playful experience of plenty variety.
Quizzes used in educational and professional training improve motivation to learn and pave the way for "informal" approaches to new topics. Key is to maintain a healthy balance between the playful acquisition of knowledge and plain knowledge testing.
To bridge the paradox between the "wants" and the "needs", we have designed quiz elements to ignite and motivate interest towards different problems and topics on the one hand, but also to promote learning achievements in discussions and interactions with content-related aspects on the other hand.
Much more than just loosening up classroom atmosphere, the quizzes serve as an educational tool and can be integrated as a "methodological classroom element".
The quizzes are designed to a diversity of needs. They may be implemented as interdisciplinary activities, according to levels of difficulty (beginner, advanced, expert) and across all school levels, but also in non-school educational contexts. They may be used to test knowledge or to monitor achievement of the learning objectives when employed at the beginning or end of a teaching unit. They may also be used to clarify the students' individual interests regarding specific aspects in order to adjust teaching content and a course of action.
Combining the quizzes elaborately with the subject matter will improve learning achievements significantly.
Over all and in line with a constructivist didactic, we paid special attention towards the process of acquiring new information by not only providing answers to the questions, but also adding annotations and links to additional content.
We would like to hear about your hands-on experience and your students' reactions. If you have methodological comments or suggestions for material, please share with us. You can reach us via: quiz@culpeer4change.eu
Didactic-methodological potential
The didactic-methodological possibilities are many. We would like to provide you with some more suggestions for the approaches listed above:
Using the quizzes as an introduction to a new topic, students can express opinions, formulate questions and hypotheses and demonstrate or reflect on previous knowledge.
 
You may consider conceptualising problem-based and solution-oriented assignment tasks by addressing one or more questions.
 
Students can be assigned to work with the quizzes individually as well as in groups. A competitive atmosphere might help to increase motivation.
 
Using the quizzes during the course of a teaching unit trains students in gathering and analysing information, documenting results or examining hypotheses.
 
Rounding off a topic, quizzes may encourage transfer learning in students or a re-structuring of transfer considerations on a "concept map".
 
Students might develop digital or non-digital documentation, presentations, educational posters, or oral presentations. In times of self-reflection, students might contemplate their individual course of involvement and action with the SDGs.
 
Employing the quizzes to review study material allows students to make new connections or to transfer their knowledge and problem solving skills to other areas.
 
A specific SDG may be explored from different perspectives and further examined in study groups.
 
Depending on age, the quiz levels (see below) are well suitable for heterogeneous study groups. There is a wide variety of material available with each annotation to a question (links to video clips, texts, charts etc.), allowing different approaches.
Structure and sequence of the quizzes
Each quiz consists of twelve questions and a choice of three answers, with only one correct answer. You will find out whether you got the question right or wrong right after answering each question. When you finish the quiz, a final evaluation of your answers will be displayed, showing your answers and the correct answers, if you didn't get all right. Each correct answer will be displayed with a brief explanation. Additionally, there will be complementary material and annotations that can be used for further study. Students may use the final evaluation to reflect on their results individually as well as in groups.
Students' age and previous knowledge should determine quiz level difficulty. "Beginner" is designed as an introductory level, for students in lower secondary level up to grade 10. "Advanced" is designed for students in upper secondary levels or as a challenge to lower secondary students. "Expert" is designed for advanced levels, possibly suitable for students of upper secondary levels or adults.
We hope you enjoy taking the quizzes and using them in your classrooms!
Experiences and reactions of pupils
How the CulPeer4change quiz raises interest in the SDGs
Can quizzes be used to introduce SDGs to pupils? Is it possible to raise interest in complex topics with quizzes at all? How could this be done? These questions were asked from the very beginning by the European project CulPeer4change, in which local authorities and NGOs from Austria, Bulgaria, Denmark, Germany, Italy, Poland, Slovenia and NGOs from Tanzania and Bolivia work on anchoring SDGs in school education.
Especially in times of Corona and the corresponding "homeschooling" it would be worth an experiment, that was the idea of two teachers of a 7th class at a comprehensive school in Aachen. Based on the reports on the positive effects of Corona on nature and the environment (clear water in Venice, fewer flights, cars and ships, clean air, etc.) and at the same time the urgency of the topic of climate change, the students were asked to work on the topic with the quiz and to deal with an aspect of their choice.
1. You are to play an online quiz on the topic of SDG 13: Climate.
You can find it on the website: https://culpeer-for-change.eu/quiz/en/select/level-1
Good luck with it!
2. At the evaluation of the quiz you will receive a list of all questions at the end. Here you will get detailed answers to each question and the "Learn more" button will appear.
Challenge:
You choose one of the 12 questions you are interested in.
Now click on the "Learn more" button below the answer to the question. Here you will find links to further information on this topic.                
With the support of these sources (but you can also do further internet research yourself) you should create a learning poster on the topic of your question.
3. We have practised on learning posters (size: at least DIN A3 - i.e. two DIN A4 sheets glued together): Headline, photos, important keywords and short explanations, self-painted pictures, etc. are part of them. It is always important that it is clearly arranged and readable! In any case, you should include a short text on climate change in general.
4. Take a picture of your learning poster and mail it to us by Sunday, 6 p.m. at the latest.
The result impressed the two teachers very much, because they knew about the difficult domestic condition of a number of their students. By the time mentioned above, 18 of 27 students had sent their posters as photo.
The evaluation was then very pleasing: 25 students reported that they considered the quiz to be interesting and motivating, two found it okay.
They understood the answers, the topics were diverse. As another 8 students were late in completing their posters, it turned out that of the 12 questions in the quiz, 10 were chosen for their own presentations. This is all the more remarkable as they had all decided this for themselves at home - without influencing teachers or the peer group. Thus, a broad field of interest seems to be addressed by the questions of the quiz.
The offer to carry out another learning project with a quiz on another SDG was welcomed by the students.
Examples of the learning poster from students in Aachen: