Circus Debere Berhan (Debere Berhan, Ethiopia)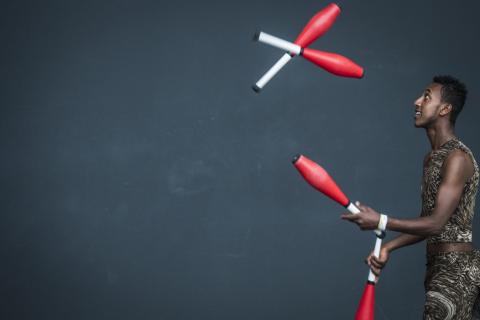 The circus was founded in 1998 in the town of Debere Berhan. The history of the project began with circus workshops for disadvantaged children to improve their living conditions. Their circus talent should give them the opportunity to generate a small income and to be able to build their own future.
From the beginning Circus Debere Berhan also worked with disabled people. At present, deaf, blind and physically handicapped children and young people train there. The vision of the circus is to support circus talents, to strengthen them and to help them to develop as individuals. Circus Debere Berhan attaches great importance to focused and creative training. Values like mutual respect, honesty, trust and working together as a group are taught during daily practice.
Again and again Circus Debere Berhan tours all over Ethiopia with its approximately one hundred performers, who divide into small groups to explore the vast landscape of their country. If it continues its success, it will hopefully help to change the perception of disability and discrimination in the region and beyond.
The circus spectacle
The performances of Circus Debere Berhan include top-class circus acts, traditional and modern live music, traditional and contemporary dances with different plots on a professional level. The shows convey different and current social issues, creatively combined with Ethiopian culture and performed in front of a broad audience.