Nafsi Africa Acrobats (Nairobi, Kenia)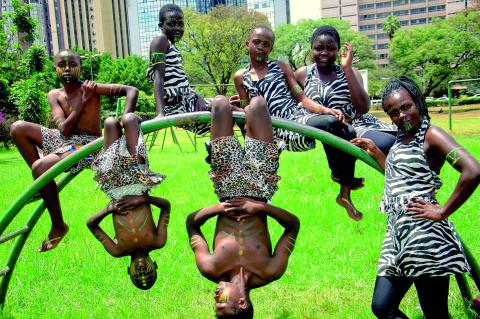 Nafsi Africa Acrobats is a group of socially engaged artists who, despite lacking educational and economic resources, have managed to overcome all adversities and achieve positive change in society. They strongly believe that profound social change is possible. They have passion, talent, strong concepts and are eager to learn and grow. They believe that there are great possibilities for them to trigger social changes.
Nafsi works continuously to work against structural problems in the impoverished areas of Nairobi, such as child labour, drug abuse, neglect or sexual abuse. They want to give the children without access to education, joy of life and prospects for the future.
The project offers an artistic training programme. The trainers give weekly training sessions in acrobatics, painting, dance and yoga.
The group presents a dynamic acrobatic programme combined with music and theatre elements. In addition to the use of numerous jumping and balancing figures, the group's show always involves interaction with the audience.
The performance
In 2021, the Nafsi Africa Acrobats will present an acrobatic theatre performance that deals with the topic of children's rights, among other things.