Teatro Trono (El Alto, Bolivia)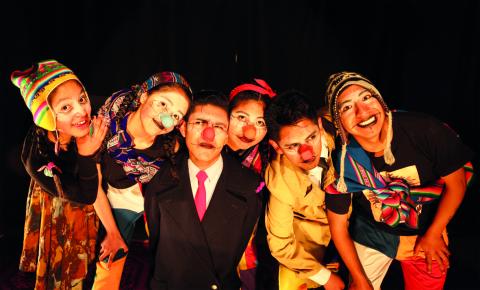 It all began with a group of street kids in a reformatory in La Paz. The teenagers gave the reformatory an ironic nickname, Trono (throne), because they could at least eat and sleep there.
End of the eighties the social worker and theatre pedagogue Ivan Nogales started working with these kids and was soon so convinced of their acting talent, that he started a theatre group with them. The teenagers immediately began with a lot of dedication. They have taken everything that they have seen – in their neighbourhood, in the slums or in movies and on TV – and worked it into their theatrical productions. They became culturally active outside of the reformatory. With that, the first generation of "Teatro Trono" was born.
Today, Teatro Trono brings unique images to the stage with creative costumes and a high level of acting talent, that convey the play's message without much need for the use of language. The young actors have mastered pantomime as well as "classic" theatre, and clowning, circus techniques and masks along with (mostly traditional) music play an equally important role in their pieces.
About the theatre production
The production tells the story of two young people who come to the Bolivian town of El Alto near La Paz to realise their dreams. But their life turns into a nightmare. Industrialisation has changed El Alto: There are mountains of rubbish, rivers are polluted and the cityscape is destroyed by the trusts. Globalisation and growth have also influenced the people: egoism determines life. Soon the two find themselves in warring camps. A play full of serious topics that never loses its lightness thanks to its humour.