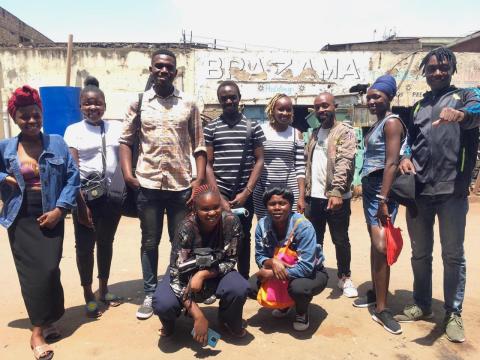 GLOBAL STAY TOURS is cultural peer exchange through the screen. The concept has proven to be a powerful instrument for global understanding, and it works without damaging our climate.
In Denmark, Spor Media has organized many tours for cultural youth groups from countries in Latin America, Africa and Asia. In cooperation with KinderKulturKarawane in Germany we received the first youth group in 2004. CIRCOmpa was a group of circus kids from Teatro Trono in Bolivia and the cooperation between the artist and Danish kids became a marvelous experience for everybody involved.
Ever since, we have each year had one or more groups visiting and touring in Denmark, and each time the cultural peer concept has proved its worth. Though often from very poor backgrounds the young artist come to us as resource persons. They teach our kids how to juggle, make handstands or pyramids. Generally, they love new opportunities, and they show that you have to be determined in order to achieve your goals.
Last year the pandemic suddenly put a halt to our planned visits from Bolivia, Tanzania and Kenya and we had to invent something new and feasible. Several years ago, we started supporting our cultural partners in Bolivia and Kenya with Danish development funds, and we knew that our partners had a lot of potentials just waiting to be used.
That is why we invented the Global Stay Tours concept which takes place virtually but contains many of the same elements as the physical visits.
Preparation
Until now we have organized stay tours for students at high schools, 'efterskoler' (schools for students aged 16-17, living and studying together for a year), and folk high schools (for young adults (18-25) who live and learn together for three to nine months). And we are planning to expand the concept to public schools (grades 8 and 9) in cooperation with our partners in the municipalities of Sønderborg and Kalundborg.
Common to all tours is that the students and the teachers involved have to prepare themselves before the tour, take ownership and give their input to the program. How much time can they set aside? Which development goals would they like to focus on? They watch documentaries and do research and they prepare themselves linguistically by listening to the local accent.
As part of the Global Stay Tours concept the students will make products, and during the preparation they think about which information they will need. Often, they make different media products which they can distribute to peers and/or the local society.
Together with our partner - Nafsi in Kenya or Teatro Trono in Bolivia - we make the final program. We ensure that the young cultural tour guides selected in our partner country have the necessary technical equipment and that they receive simple communication training in camera work, sound, light and grassroot journalism.
Visit
A Global Stay Tour lasts at least three days - 2-4 hours per day and it takes place using the zoom software.
The first day is about getting to know each other through games, dances and maybe Swahili or Aymara lessons. Some of these cultural activities are repeated or renewed the following days. They also do group work with 5-6 students and one or two cultural tour guides in each group. We maintain the same groups during the tour in order for the participant to have time to get to know each other.
On the second day the cultural tour guides invite their group of students to see how they live. They show around using their smartphones and the experience can be mind blowing as life in for example the Kenyan slum is so different from the average life in Denmark.
The third day (and maybe more subsequent days) the program will include different activities depending on the focus and age of the students. A possibility is to go to the countryside to witness the consequences of climate change - in Kenya or Bolivia. Another option is that the cultural tour guides show how rich people live in order to talk about inequalities. And if the time allows it, they can go on a guided tourist tour in the city. But the students also need time to gather information and work on their products and at this stage, time is running very fast.
After the visit
After the stay tour the Danish students will finalize their products, and two or three weeks later they meet with their cultural tour guides again in order to share their products and to have the last farewell.
Until now the products have been media productions such as articles, podcasts, videos, posters and Instagram blogs. The products focus mainly on the meeting and interaction with the cultural tour guides showing that the emotional meeting with peers is essential to further understanding.
As an example of products please see All we have is happiness - a portrait article about cultural tour guide Nancy Kathini - a brilliant singer in a female band, living in the Korogocho slum in Nairobi, Kenya.