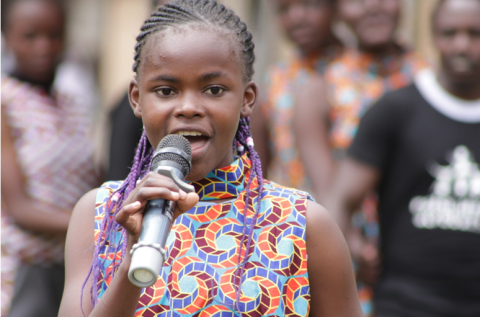 Cultural activities and good friends can be lifesaving if you are a young person in Nairobi's slum.
Culpeer4change partners in Kenya and in Denmark - Nafsi and Spor Media - are cooperating to improve Nafsi's cultural activities involving children and youth in the Nairobi slums. The aim is to give the young participants other perspectives and alternatives to the risky live of the street.
The troubles of the street
In some places, it is extremely dangerous to be a young person. In Nairobi's slum young men risk becoming involved in gang crime and/or become victims of police brutality. Young girls as small as 12 years old prostitute themselves just the get something on the table for themselves and their siblings and the number of rape cases and teenage pregnancies is alarming.
The first female band is up and flying
The Nafsi-Spor project Manzi Rada (Girls be ready) is particularly targeting girls and young women by providing them with music training. The music lessons are well received and some of the most talented young women have formed their own female band, Pepea Afrik (Fly Africa). The band is becoming popular and despite of corona lockdown Pepea Afrik has been giving several concerts - some of them on-line.
Link between the slum and the countryside
The young Nafsis not only need cultural skills and the Manzi Rada project offers general knowledge about the UN development goals to all Nafsi participants - girls and boys, trainers and participants. For example, they go on excursions to the countryside to witness the consequences of climate change. Here they are taught by climate activist Kisilu Musya - the main character of the international documentary "Thank you for the rain" and in his village they exchange cultural performances (music, danse and acrobatics) with knowledge and practical experiences from climate change and climate adaptation.
Culture with content
The young participants benefit from the adult artists and teachers as good role models, and they become close friends with their Nafsi peers who share the same values and interests. Pepea Afrik says about themselves that the band speaks on behalf of women and their challenges in the society through music. Also, Nafsi's other activities with children and young men and women are message driven - apart from being fun. They learn while making the performances about environmental problems and climate change and it increases their possibilities of becoming globally engaged citizens.
Please enjoy the video about the project (13 minutes):