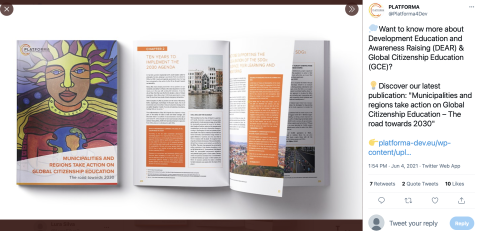 PLATFORMA released this spring the publication "MUNICIPALITIES AND REGIONS TAKE ACTION ON GLOBAL CITIZENSHIP EDUCATION – The road towards 2030". It focuses on how local and regional governments continue facing new challenges and implement innovative actions involving key partners and peers across the globe to bring change. All actions shall lead to long-term sustainable development.
We at CULPEER4change are one global education project among many great others, incorporating decentralized cooperation, realizing exchange among equal partners and influencing policy makers on a municipality level. Our activities shall support children and young people in finding their role in this world. Our educational concept is dedicated to life-long learning.
Mural paintings – creative and sustainable contributions to towns and cities
Our six mural painting actions have been featured in this publication. The mural paintings have been developed as a local activity allowing communities to create their own visions for the future. Students and artists produced sustainable solutions for the people and environment. The participants gain more awareness about the SDGs and are able to fill in the gaps of missing knowledge about the interconnection of global and local issues. Inspiration, exchange and creativity are key elements which are enabling self-efficacy and leading to actions.
One mural painting is on the cover of the publication. This was a cooperation between artists Jaime Rodriguez Inungaray, Luis Alejandro Vasquez Aliaga and students from the primary school Milan Šuštaršič in Ljubljana, Slovenia.
The publication has been featured in the news portal euractiv. Read "Raising awareness on what citizens can do and policy makers should do".
PLATFORMA is the pan-European coalition of cities and regions, representing a hub of expertise on European local and regional governments' international action. Through their work they shed light on the importance of decentralized cooperation and gather practioners.