After the network came together in Wroclaw, Poland the journey continued and this time CULPEER4change went to Italy. The entire network was invited by the Municipality of Varese and Istituto OIKOS to Varese. From the 29th of September until 1st of October the partner organizations worked together for reflecting the three-year program and establishing future-oriented thinking. CULPEER4change will come to an end in January 2022. The network stepped jointly into the phase of developing future collaborations. It is a major concern to collect the knowledge of the network and build on it, and especially maintain a working relationship with the cultural groups. How a new project could look like is one of the main issues right now.
The highlight during the three days were the performance of Teatro Trono from Bolivia together with students from Varese during the conference day on the 30th of September. After such a long time of only virtual workshops it was fabulous to see young people interacting and collaborating with Teatro Trono. Their artistic excellence is inspiring, and the participants of the workshop could embrace the process of lifelong learning that comes with Teatro Trono. Another highlight were the the story and experience telling of students about their workshop with M.U.K.A. from South Africa. It made clearly visible the high impact these intercultural exchanges have on young people. It was very rich to listen to young people and their perspectives.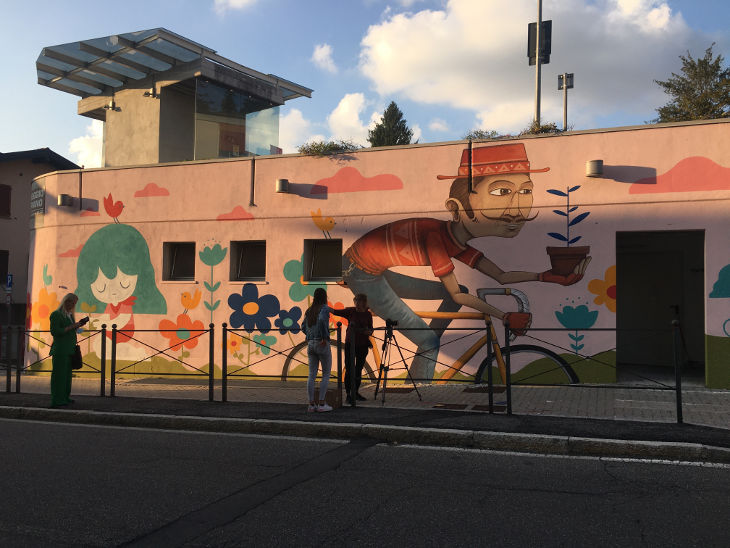 Varese inaugurated the new mural painting by the artists Jimena – famous as pumpum from Argentina the Italian artist Fabrizio Sarti – famous as Seacreative and students from Varese.
Look at the beautiful mural painting and discover the messages!
The inauguration was accompanied by a short performance from Teatro Trono that made the audience dance.
The program ended with the new masterpiece about migration from Teatro Trono at the municipality building in Varese. The event took place Friday evening. The show was touching, made visible the cracks in our globalized world and the consequences, if we don't start to do things better. It's time to act on the demands and really leaving no one behind!
We are thankful to all great contributions from the different partners. Special thank you to Teatro Trono, Pumpum and Seacreative and all the students that made these days so special.