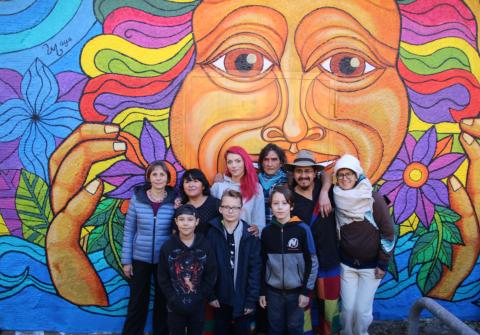 The international artists Jaime Rodriquez (Mexico), Luis Vasquez alias TinTin, Maya Cahua Laura (Bolivia) and Malin Weissenberg (Germany/Cologne) created together with children and youngsters from the youth and culture initiative Juzi e.V. a colorful and meaningful mural painting.
Environment, climate protection and preservation of humans and planet
The children and youngsters together with the artists collected ideas for the murals during a one week workshop and based on the motto 'world in our hands'. The location for the mural paintings is the transformation house of the RheinEnergie at the Nikolausplatz in the neighbourhood Sülz in Cologne.
At the starting point the artists exchanged perspectives and opinions with the youngsters about climate, climate protection and preservation of humans and the planet. The concept contains the youth-related perspectives and carries messages from each person involved in the mural project. Together with the artists they created collagen and sketches. In the second phase they painted and sprayed the themes on the murals.
'The creative motivation of the kids to research and analyse future issues and challenges like Climate Protection inspires me – this unites children and young people' explained by the artist TinTin. He was involved in the creation of 14 mural paintings of the project CULPEER4change.
Opening with audience and performance from Teatro Trono
At the opening of the mural painting the artists, the participating children and young people, their relatives, the european partner organizations, neighbours, members of the protestand and catholic parish and Frank Müllenholz from RheinEnergie were present. Teatro Trono staged a scene of their masterpiece, they are on tour with, and built the triumphant finale of the event.