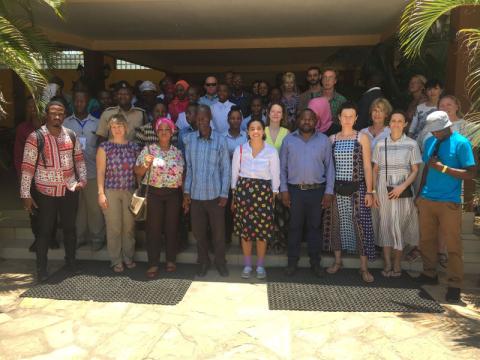 The international conference Tanzania took place in February 2020 according to the motto "Sharing best practices around using Culture and Peer learning (Cultural Peer Learning) in the world. People from Tanzania, Uganda, Kenya and different countries in Europe have been joining CULPEER4change. The network comprises 17 partner organizations, including municipalities and Non-Governmental Organizations (NGOs). The main intention is to enforce the integration of the Sustainable Development Goals in municipalities and regions. Enlightening encounters and artistic fusions were the highlight of this event.
Let's face together Climate Change, defend Children's Rights and safe Migration!
The Non-governmental Organization Kigamboni Community Centre (KCC), based in Kigamboni in Dar Es Salaam, was excited to host people from across the continent and Europe. They could share with their international guests their daily work with children and young people in the community. A special concern was to accompany the children and young people in their joint activities and listen to their perspectives. Based on the experiences, ideas and opinions of the young people, the international network was focusing on discussing ways of improving education. During the last years, KCC has made very good experiences with the concept Cultural Peer Learning. Executive Chairman Nassoro Mkwesso from KCC said "Today, the municipality Dar Es Salaam is asking KCC for help in supporting children in prison to regain trust in themselves. Confident children and young people, who are aware of their capabilities and potential, can embark on a path. This Path doesn't involve criminality and abandonment, it involves community, strength and opportunities." Bringing closer the Sustainable Development Goals to them makes them understand better their Rights and taking responsibility for their future.
Youngster are drawing the future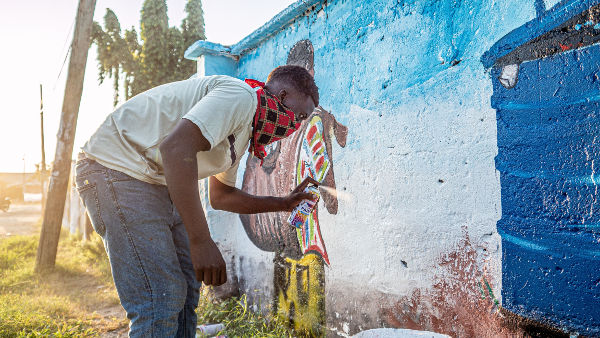 Six young artists and children from the community painted on a 20-meter-long wall their ideas, visions, opinions and experiences about Climate Action, Children's Rights and Migration. The wall shall inspire the viewers to become engaged for the SDGs and the development of communities. The inauguration of this masterpiece has been part of the international conference in Kigamboni. The Municipal Community Development Officer Ms. Happy honored KCC with her presence. The great artists, realizing this mural painting are Ahmed Mohamed, Hafidh Athuman, Mawila Khamsini, Martin Peter, Leonard Meck and Ronald Simaganda. It's an important contribution of young people to the community development.
We need action!
The network CULPEER4change involves specialists from municipalities and NGOs and was formed to give children and young people a platform to share their experiences and opinions through creativity. This is a new way of learning that school systems in Europe needs to consider. It supports pupil in understanding global issues, get them engaged and create the path for their fully personal development. Sustainable learning will be enabled by knowledge exchange among young people in Europe in and outside of schools, but also in Tanzania. It was elementary to work with the young people during the week to decide the next steps in order to reform education systems in Europe and Tanzania.
Photos: Carlo Tiedge and Fredrick Dagharo