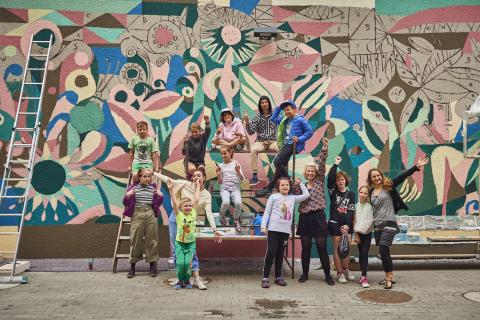 CULPEER4change realizes together with artists and students mural paintings about the Sustainable Development Goals (SDGs) on public walls in partner municipalities. Therefore, artists from Europe, Global South and of the partner country, where the mural painting will be realized, develop a concept. They create it together with students. It is wonderful to see how they bring to life their visions about a sustainable and equal world. It's a creative and sustainable statement about the implementation of the SDGs.
In particular also during COVID-19 students and artists have been developed amazing pieces of art. Among the artistic works in Nova Gorica (Slovenia), Plovdiv (Bulgaria), Kigamboni (Tanzania), more mural paintings emerged in Wroclaw (Poland), Sonderborg and Kalundborg (Denmark). We look back on very emotional and beautiful exchange projects, which generated colorful and meaningful mural paintings.
During the exchange they expressed their visions about a green planet and presented suggestions for making distribution more fair in this world. Their focus and principle was "together" for our humans and the planet.
Thank you to all photographers!
Fredrick Dagharo, Patricio Soto, Mateusz Bral, Viljenka Savli, Zornitsa Staneva, Torben Vosbein und Gitte Jakobsen