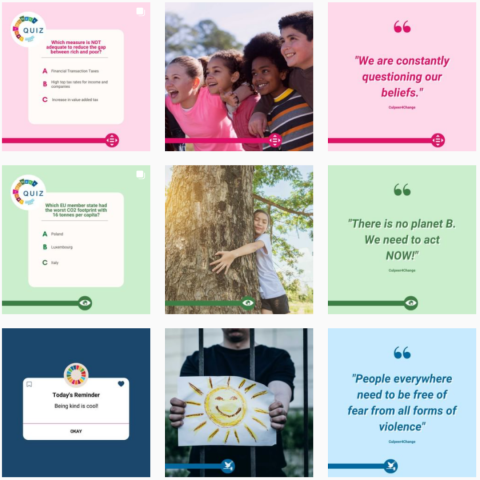 A lot has happened at CULPEER4change in the last few weeks - especially on our social media pages. They now shine in new splendour.
In order to create a simpler understanding of our topics, the colours of our three SDGs (Sustainable Development Goals) and the content of our pages have been revised. With simple labels at the bottom, the posting sections are now easily and quickly recognisable. And the posting texts have also been changed. Short but concise texts are now intended to make the topics and contents more accessible.
New categories provide a better overview
Our variety of topics has also increased. You can now find a wide range of different, exciting content on our channels, such as a quiz, word explanations, reminders or quotes. Nevertheless, followers do not have to do without insights from our partners: Once a week, one of our partner countries writes a post.
If you want to get an idea of the new design and our formats, take a look at our channels. We are looking forward to more followers!
Facebook: https://www.facebook.com/CULPEER4change
Instagram: https://www.instagram.com/culpeer4change/