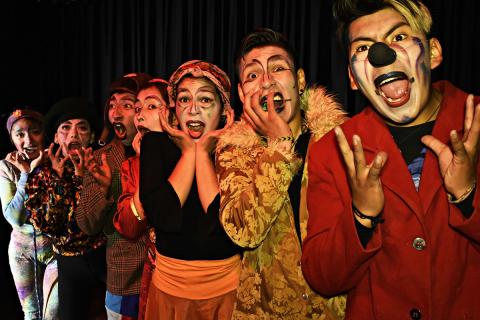 "El Mañana es Hoy – The future is today", is the slogan with which "Teatro Trono" got together. The teenagers did not want to wait for change in the future but instead wanted to actively take part in this change.
Everything began with a group of street kids in a reformatory in La Paz. The reformatory was self‐ironically called Trono (throne) by the teenagers, because they could at least get something to eat and a bed there. One day the social worker and theatre pedagogue Ivan Nogales started working with these kids and soon he was convinced of their acting talents that he founded a theatre group with them. The teenagers quickly participated with a lot of commitment. All they saw – in their neighbourhood, in the slums or in movies and on TV – they have processed in their plays. They were no longer dependent on the reformatory. The first generation of "Teatro Trono" was born.
Today Teatro Trono embodies the People's Theatre at its best. With expressive body language the group creates pictures on stage that can convey the message of the plays without much need of the use of language. Thereby the young actors mastered pantomime as well as "classic" theatre, clowning, circus techniques and masks in their plays have an equally important role as (mostly traditional) music.
In 2012 Teatro Trono organised one of their biggest projects: a caravan with their "Teatro Camion" (a driving theatre stage) from Copacabana at the Titicaca‐See to the Copacabana in Rio. The occasion was the world congress "Rio+20" in Rio de Janeiro. The group showed their productions "To the last drop" – a spectacle about the water and the climate change – in a lot of places, supported by international young artists. The success of that caravan was overwhelming.
Back to the roots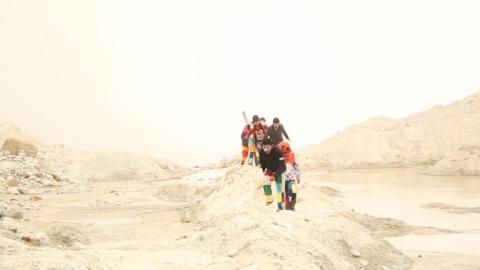 A lonely girl has something on her back, something she appreciates very much. The girl is looking for a cure, a remedy for the planet Earth, which is sick and about to die. That is why she carries it with great care.
In her search, the girl encounters dark figures which pursue her. They want to acquire the planet in order to enrich themselves further at its expense, without worrying about anything other than money. But the girl tricks the dark figures and thus manages to escape them.
Where does she find the cure to heal the planet?